Having a pet has been one of the greatest blessings in disguise. Despite her destructive tendencies, my puppy is the most lovable, adorable, huggable little baby ever. If you have a dog, you know that coming home and seeing that sweet little face makes all the bad things more bearable.
You also know, with pets come hair - and lots of it. I don't know about you, but my puppy's white hair is
all over everything
in my house. I avoid darker colors because they are magnets to white hair. With that being said, I did some research and found five fabrics that will save the life of your sofa or chair. Truth is, with having a pet you're always going to have to deal with pet hair. Good news is, there are fabrics that wear better than others. Check out these perfectly pet friendly fabrics that will help save your furniture even when your pet is making a home out of them.
1. Leather/Pleather
Despite the bad wrap on leather, it can be a good option for people with pets because the hair doesn't stick to it. It can be easily removed and the leather can simply be wiped down with a leather cleaner when it's dirty. However, it's important to note that most leathers will scratch (which doesn't have to be a bad thing). After a while you'll get a nice patina that looks great.
2. Microfiber
Microfiber is a synthetic fabric that wears like a dream. It doesn't rip or scratch and hair can easily be removed with a lint brush or even wiping it with your hands. Microfiber is also great because most stains can be removed with soap and water.
3. Denim
Don't run away just yet. Denim has been around for ages and is one of the toughest fabrics. Denim can give a real earthy vive and is definitely great on wear and tear. It's rugged, durable and easy to clean which makes them number three on this list.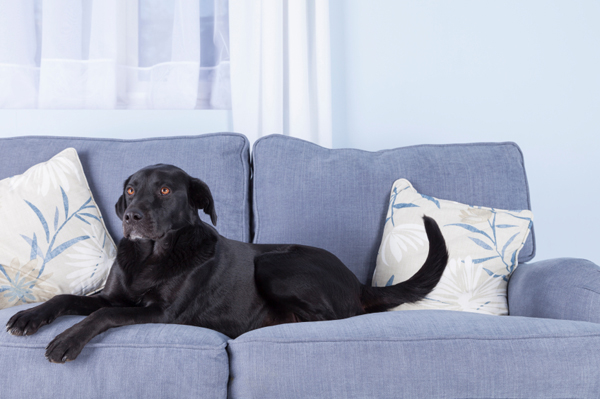 4. Canvas
Canvas, which is made of cotton, can be great if it's in slipcover form. It's durable enough that it shouldn't scratch or rip and if it gets dirty you can simply remove the slipcover and toss it in the washing machine. This is perfect for when you are having guests and need a quick clean! Plus, toss some fabric softener in the wash and your sofa will smell amazing.
5. Crypton
Crypton super fabrics have been designed with pets in mind and are stain-, water-, and bacteria-resistant. Actually, a lot of pet beds are made of this awesome fabric. Check out this article from
TLC
for more information.
I hope this helps in the decision-making process when it comes to getting furniture with pets. If you're planning on getting a new sofa, and you know your dog and/or cat is going to be snoozing on it all day, go ahead and get one that's going to hold up. All five of these fabrics are great with stains as well, so children are covered too!
There's no way you can force your dog to stay off the couch...it's just not practical.
So if you have an existing sofa, just get a slipcover in one of the fabrics above (my vote is the Microfiber) and toss is on. If you're thinking about purchasing new, leather is the best option so spend the extra to get something that will last.