Celebrities...they're just like us. Except, not.
Location:

Ojai

, CA
Price: $6,950,000
I am so delighted to do a CMM for one of my all-time favorite actresses. Reese Witherspoon is not only an amazing actress, she's also one that has really good taste! She purchased this stunning historic ranch back in 2008 and within months popped up on the cover of Elle Décor. As of May 2013, apparently, she's sold the ranch and bough a quite small house next door. Pictures of the inside of this home are nowhere to be found, thus, I am going to talk about her previous home.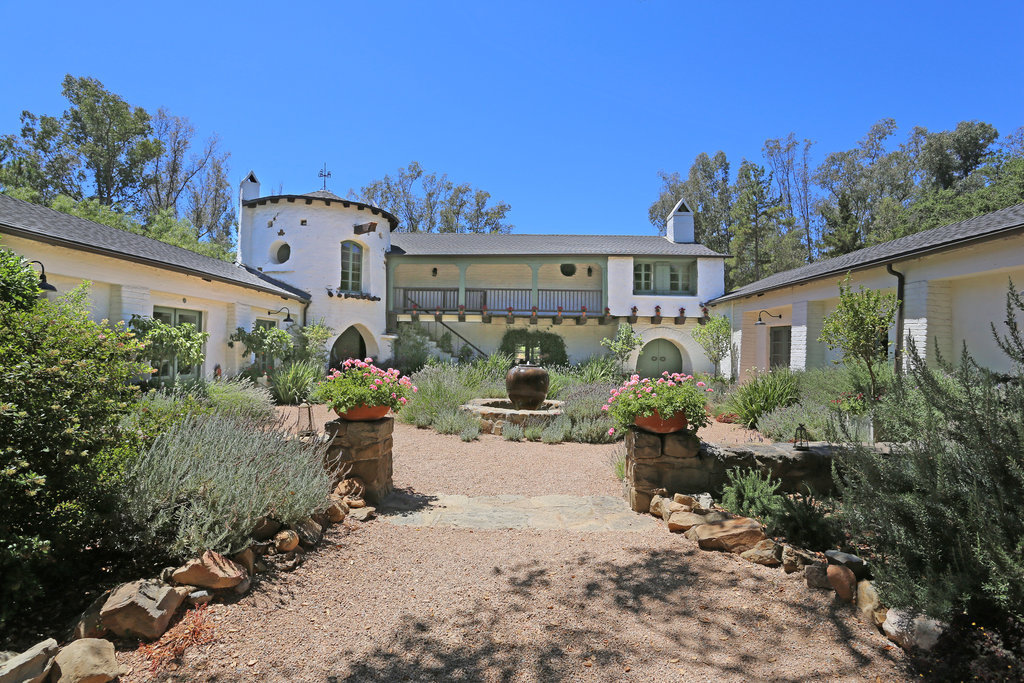 In all it's wonder, this Tuscany-style ranch home, designed by
Kristen Buckingham
, is a whopping 4-bedroom, 3-bath mansion located in Ojai, California, just north of Los Angeles.
Inside the living room. you'll find a pair of 19th-century leather chairs and an upholstered settee. I love the small table made from an apple-tree stump; it's a nice way to bring the outdoors in. The chandelier, pair of antique lamps, and rug are all pieces that add a variety of textures.
The gorgeous staircase has Mexican tile inlays in bright, vivid colors. You can tell from this picture the magnitude that the wooden beam ceiling places on this space. The gorgeous wrought-iron railing, plaster walls, and wood floors are original to the house. The nook built-in under the stairs is a perfect place to fall into a good book. The room beyond the living room is the family room.
I love the Aztec theme that's going on in the finishes throughout the home. A decorative ottoman like the one in the family room is a great way to add an unexpected pattern to your space. In the far left corner of the space, you'll see a small balcony. I've always wanted one of these in my home. They remind me of the scene in Rapunzel where she is waiting for her prince.
In the kitchen, minimalistic cabinetry is accented by bold, cherry red bar stools, and hints of mint green in countertop glassware and the painted door and window frames. Again, the flooring was existing but gives a nice country feel in this space.
I searched for hours trying to find the master bedroom of this home and all I found was the master bath. But, it's just as beautiful as the rest of the home. This airy bathroom definitely evokes a calm and relaxing feel. Who wouldn't want to take a bubble bath in this huge freestanding tub?
Taking a look at the outdoors of this home, the views are breathtaking. You can see in the distance the rolling hills of California. The ranch also has a barn, horse stables, and a carriage house. It sits on 7 private acres that include an organic garden and a pool.
Fun Fact:
Libbey Ranch was originally owned by designer
Katheryn Ireland
. I always love to see how differently the same spaces are decorated. Ireland is no foe of color!
I hope you enjoyed the tour of Reese's beautiful Tuscan home. Like I said, she no longer lives here so I am on the hunt to find her new abode. Enjoy your week and stay tuned for a fully week of creative ideas on Thirty Seventh Avenue!