I love waiting and watching to find out what the new Color of the Year is going to be. I was so excited when Pantone released 2013's Emerald, because it was my birthstone! I remember getting my mother an emerald cardigan last Christmas in excitement. Emerald is a great color for accessories and can have a bold and dramatic effect on spaces. I've really enjoyed playing with it this past year.
But, as with everything, trends and styles change and with that comes new fab colors to play with. Pantone recently released this year's color and I'm excited to announce that it's Radiant Orchid.
I love this color because of its enchanting and suspenseful nature. Its a color that can sneak into any palette and make a bold statement. Pantone's executive director Leatrice Eiseman said it best, "While the 2013 color of the year, PANTONE 17-5641 Emerald, served as a symbol of growth, renewal and prosperity, Radiant Orchid reaches across the color wheel to intrigue the eye and spark the imagination, an invitation to innovation, Radiant Orchid encourages expanded creativity and originality, which is increasingly valued in today's society." Betcha didn't think a color could do that!
"An enchanting harmony of fuchsia, purple and pink undertones, Radiant Orchid inspires confidence and emanates great joy, love and health. It is a captivating purple, one that draws you in with its beguiling charm."
I totally agree with that last statement. It a very captivating and charming color: both masculine and feminine. Luckily for you, I've compiled a list of some simple, inexpensive pieces in order to add that pop of Radiant Orchid to your space, no matter what style you've got going on.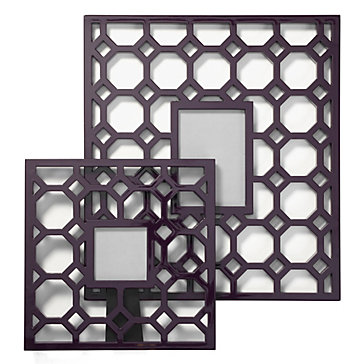 I hope you add a little Radiant Orchid to your palette next year. I'm not one to immediately find the purple option in things, but it's coming around to me. I'm sure going to give it a try on my next project! Happy Hump Day!